Artificial dynamite is a prop often used in plays and is often included in comedies and children's theater. In this post, we will give you tips and tricks for creating fake dynamite that will look so real that even the actors will handle the fake dynamite with care! Enough talk, let's get started!
In this example I will use artificial dynamite which I made for a professional production of The Comedy About a Bank Robbery at Rogaland Theater in 2021. I was engaged as a prop maker for the production and also got to make several other props, but today we focus on the dynamite.
I used round pieces of wood that I cut to the desired length. Then I sanded the surface and the edges to make the surfaces as smooth as possible so that the dynamite would have a smooth surface so that it will look like the surface of real dynamite. If it is the play to be performed in a blackbox with the audience very close to the action, then I would have covered the logs with paper for extra realistic result. But on larger stages, you can just sand the wood down and apply paint directly on the surface off the wood.
Materials:
Acrylic paint or professional theater paint (I used paint from Haussmann)
Woodlog sticks
Black rope
Water (to dilute paint)
Tools
Sandpaper
Hot glue gun
Paint brushes
Gauze (to take away dark paint)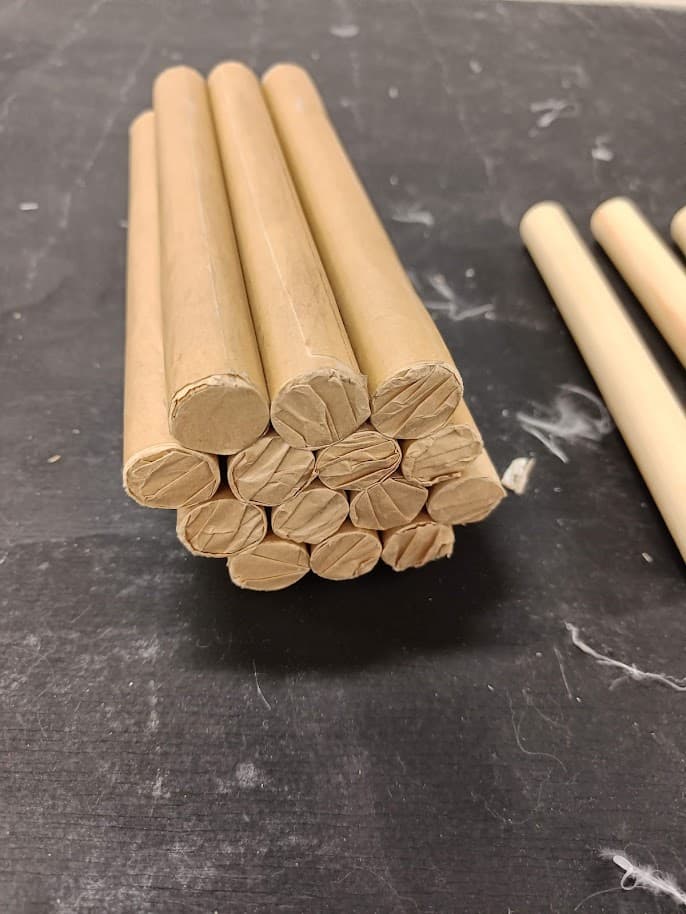 Want to learn more about prop making and other techniques? Se a list of recommended books here: http://www.sfxzone.com/prop-making/
This post are written by Sander Skarås Pedersen. He is a norwegian prop maker, set designer, light designer, makeup FX artist, exhibition designer, scareactor and actor. Sander have worked for both proffesionals and with amateur theater. He also run a online store for norwegian costumers where they can buy SFX-makeup and stage makeup.